Alexis E.
Married on 03/14/2020
You are the best !!!
If you,re looking for a day of coordinator STOP your search. You've found the absolute best. Daly is highly organizes efficient and extremely easy to communicate with I was an out of state bride and she always made time for me either via Skype or in person when I flew in. Daly has the best energy and her manner when dealing with difficult vendors is superior to none.Daly is so passionate and has an incredibly calming and friendly nature. She took all of my stressors and worries away and made sure I was on top of things promptly.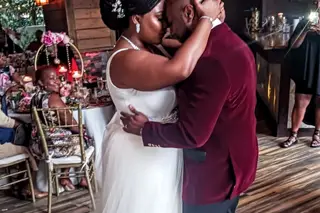 Nathan S.
Married on 09/18/2022
Stress-Free and Very Efficient
My wife and I were referred to Daly by our catering company (Exquisite Catering) for our wedding. Needless to say it was the greatest referral we could have ever hoped for. Daly is simply amazing. Hard working, very detail oriented, affordable, and as professional as they come. I would highly recommend going with Go2Girl events for any future events you may have.
Angela A.
The Happiest Bride!
My husband and I used Daly to plan our wedding last year - I have since referred her to all of my future brides and they have also had the same perfect experience. The day went absolutely perfect, the entire planning process was stress free, and I feel as I made a friend for life! 11/10 STARS!!
Lindsay W.
Bride
Best Wedding Coordinator!
Daly was such an amazing wedding coordinator and we are so happy we found her. We had to move our wedding due to covid and our initial wedding coordinator could not do our new date so we had to find a new one. In the end it was honestly a blessing in disguise because Daly was amazing and we really LOVED working with her. Not only is she an awesome coordinator but she is just a very sweet, down to earth and fun person to work with. She is so organized and thoughtful about everything she does. She made the whole month before the wedding so much less stressful and the wedding ran SO smoothly because of her guidance and help. She is extremely hard working and makes sure to cover every detail of the wedding. There were many things I would never have even thought about to address that she brought up which was incredibly helpful so that we didn't run into any unexpected problems on our wedding day. Hopefully I never have another wedding 🤪 but would hire Daly again in a heartbeat. We cannot thank her enough for helping to make our wedding day perfect!
Natalie
Bride
Wedding Coordination
She's a great wedding planner and she is also extremely professional. Dali helped relieved me from stress and keeping me organized. I am happy with her services and finding her has been god sent. Thanks so much for everything you do and I highly recommend her to anyone looking for wedding coordinator and/or planner